Follow the BGovs games on iScore

(use the arrows to scroll to the game you wish to follow or click HERE)

BGovs Customer ID: 5mv5b6ssnu
Looking for summer employment?

The Bismarck Parks & Recreation District is looking for baseball coaches and umpires!

If interested, click HERE for more information or call 222-6455.
2015 Registration Information
American Legion Baseball:
Competition in 2015 is open to players born on or after January 1, 1996. Any player born in 1995 or before, is not eligible to play American Legion Baseball. 2014 High School graduates may only play for the Legion team they played for during the 2014 season. If a player is born in 1996 or 1997, that player must play in the Senior Legion Baseball program.
16-18 Y.O. Babe Ruth Baseball:
Any player born prior to May 1, 1999, and on or after January 1, 1996, will be eligible for Babe Ruth Baseball 16 – 18 division.
Babe Ruth League, Inc. Birth Chart for 2015
Senior & Junior American Legion 2015 Season Age Eligibility Chart
We will plan on three teams depending on the interest and number of participants.
Governors: Senior American Legion, Class AA

Reps: Junior American Legion - This will be for players in their first year of eligibility for the 16-19 year old program and that don't try out for or make the Governors

Senators: Senior Babe Ruth -This will be for players in their second year or more of eligibility for the 16-19 year old program and that don't try out for or make the Governors.

If numbers don't work out evenly for the Reps and Senators, we may move players from one of these teams to the other.
Registration
Stop by the Bismarck Parks and Recreation District office at 400 East Front Avenue or click HERE to register online. Create a username and password and register. Please register early!
| | | |
| --- | --- | --- |
| Age | Dates | Code |
| 16 | Practice begins June 1 | 6789 |
| 17 | Practice begins June 1 | 6790 |
| 18-19 | Practice begins June 1 | 6791 |
Fees:
Governors $425

16-18 Babe Ruth $425, will have option to sell raffle tickets to earn a portion of fee back

Practice dates, times and locations are determined by the coaches

Each Governor's participant will also be required to sell raffle tickets

Your raffle ticket purchase doubles as a family season ticket to all Reps, Senators and Governors games for the 2015 regular season AND puts your name in the calendar drawings for cash prizes, too.
Tryout Schedule - June 1, 2 & 3
PLAYERS SHOULD SHOW UP RAIN OR SUNSHINE ON JUNE 1

Governors - 4:00 pm at Municipal Ballpark

Reps/Senators - 4:00 pm at Haaland Field

Participants should report to the team they would like to try out for. The coaching staff will place the players on the team they feel best suits the players and the program.

Participants should print out the Player Indemnification Release Agreement below and bring the completed form to tryouts - school enrollments (grades 10, 11, 12) - BHS 1,077; CHS 1,110; St. Mary's 233; Shiloh 51.
If you have any questions or would like more information, please feel free to contact Mike Skytland at
226-0598 or mike_skytland@bismarckschools.org
Thanks for the memories!

Seven members of the 2014 Bismarck Governors American Legion Baseball team completed their final year of eligibility. These seven young men played a key role in making 2014 one of the most successful BGovs seasons in the last 42 years! Guys, thanks for all your hard work and dedication, we wish you every success in all your future endeavors!

#3 Kole Bauer

#7 Trent Bohan

#9 Nate Dinga

#17 Brandon Gieszler

#20 Quinn Irey

#21 Josh Seibel

#25 Hunter Walsh

Pictured left to right: Assistant Coach Blaine Steiner, Quinn Irey, Trent Bohan, Nathan Dinga, Josh Seibel, Hunter Walsh, Kole Bauer, Brandon Gieszler, and Head Coach Mike Skytland
Brad Hetland Memorial Award Winner
Congratulations Quinn!

Quinn Irey was selected as the 2014 recipient of the Brad Hetland Memorial Award. The award is presented each year to the team member, as voted on by the team and approved by the coaches, who exhibits the best understanding of team values, the rewards of hard work and having a passion for being the best he can be.
World Series Champions!
CONGRATULATIONS to the Bismarck Americans on winning the Cal Ripken 12-year-old Major/60 World Series! The Americans defeated a team from the Bronx, NY 8-2 in the championship game. Great Job!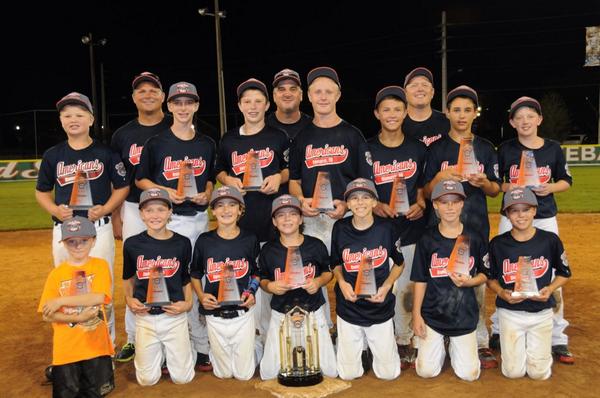 First Row (Lt to Rt): Dalton Dompier (tournament assigned Batboy), Sky Riedinger, Easton ford, Connor Weikum, Gage Dolajak, Nick Hinsz, Alex Krug
Second Row: Andrew Leingang (team Batboy), Luke Domres, Mason Leingang, Cam Miller, Cade Feeney, Connor Hanson, Cole Richey
Third Row: Coach Steve Feeney, Coach Todd Leingang, Coach Brad Miller
2014 Cal Ripken Major/60 World Series Awards (Bismarck Award winners):
Most Outstanding Player:Cade Feeney
Batting Champion: Cade Feeney
All-World Series Team: Cade Feeney (2B)
All-Defensive Team:
Connor Hanson (P)
Mason Leingang (3B/Utility)
Sky Riedinger (3B)
Luke Domres (OF)
Game On at Bismarck Municipal Ballpark

Bismarck Municipal Ballpark/Dakota Community Bank and Trust Field Game Schedule

BGovs/Reps/Senators regular season completed

Tickets:
| | |
| --- | --- |
| | A special "Thank You" to Bob Moszer and M&M Meats for donating the hamburger patties for the BGovs team picnic! |
Minnesota Twins Night at the Ballpark

Special thanks to Minnesota Twins President and Bismarck native Dave St. Peter and the Minnesota Twins for their continued support of Bismarck American Legion Baseball!
| | |
| --- | --- |
| | If you can't make it out to the ballpark to watch the Bismarck Governors play the Mandan Chiefs this summer, Super Talk 1270 will be broadcasting all of the BGovs-Chiefs regular season games.Tune your radio to 1270 AM or listen online at www.supertalk1270.com. |
Bismarck, ND, will host the 2015 & 2016 Senior American Legion Baseball Central Plains (Region 6) Regional Tournament. The Senior Tournament (age 19 and younger program) will be played at the newly renovated Bismarck Municipal Ballpark and, in addition to the host team Bismarck Governors, will involve teams from North Dakota, South Dakota, Nebraska, Minnesota and Iowa.

Bismarck last hosted the Region 6 tournament in 1966. Bismarck also hosted the 1956 and 1962 American Legion World Series.

2015
2016
The Road to Omaha

BGovs players pose with

'The Road to Omaha' sculpture in front of TD Ameritrade Ballpark - home of the NCAA College World Series in Omaha, NE. The BGovs are in Omaha playing in the Decker College World Series Tournament June 18-22.

The BGovs won the Elkhorn South Pool to advance to the championship round of the tournament. The BGovs defeated Nixa, MO 6-4 in the quarter finals and Creighton Prep 10-7 in the semi finals. KB Building Services (Omaha Westside) defeated the BGovs 16-7 in the tournament championship game.
DID YOU KNOW?:
A baseball player would have to smack 384 dingers for his home run trots to equal a marathon.